Asian Bond Markets Initiative (ABMI)
Learning from the lessons of the experience of the Asian financial crisis in 1997, Asian countries have been endeavouring to reduce the risk of financial crisis by alleviating the double-mismatch in financing (i.e., currency and maturity) as well as deepening and developing the financial intermediary function to facilitate the region's high savings to be used for investment in the region. Therefore the development of bond markets is becoming an important policy agenda in Asia.
Based on this recognition, the Finance Ministries and the Central Banks in ASEAN+3 (China, Japan and Korea) have, since December 2002, undertaken a comprehensive approach to develop their bond markets in Asia named the "Asian Bond Markets Initiative (ABMI)". JBIC, as a financial institution of the Japanese government conducting its external economic policy, has also contributed to the ABMI by such efforts as issuances of and guarantee provisions for the bonds denominated in Asian local currencies.
JBIC's Undertakings to Promote ABMI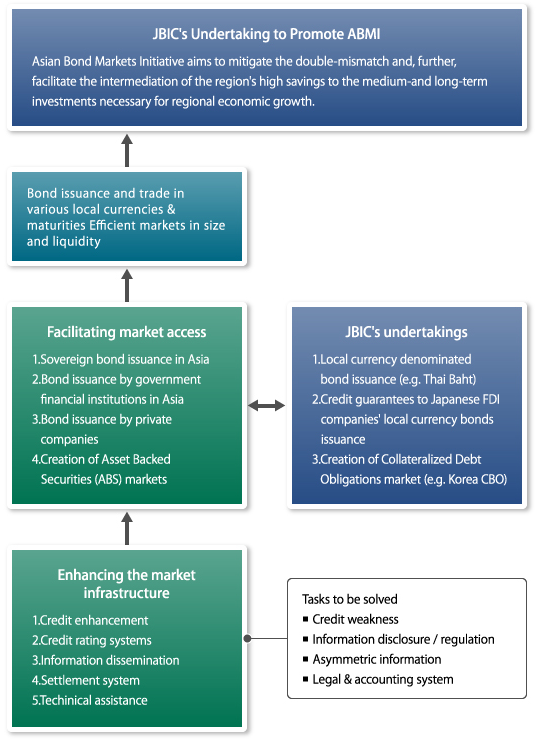 JBIC's Undertakings to Promote ABMI
JBIC's bond issuance in Asian local currencies
JBIC's guarantee issuance to Japanese FDI companies' local currency bonds in Asia
JBIC's guarantee issuance to Collateralized Debt Obligations (CDO) in Asia
Seminar on Partnerships for advancing Asian Bond Markets (May 6, 2007, Kyoto, Japan)
For More Information