JBIC provides equity investments in (i) overseas companies or projects where Japanese companies have equity stakes, and (ii) funds where JBIC's support would be highly effective or significant for the development and securement of resources, development of the Japanese companies' overseas businesses, and prevention of the global warming etc.
JBIC generally invests through the following forms.
Advantages of Using Equity Investments
JBIC supports overseas investment projects undertaken by Japanese firms by drawing on its knowledge and knowhow on host country economies and their investment projects.
The political risk of the host countries will be mitigated by leveraging JBIC's long-cultivated ties with their governments and its position as an official financing institution. JBIC will support overseas projects by drawing on the knowledge it has acquired on host country economies and investment projects.
The investing firms can turn to JBIC for making assessment of environmental and social considerations pertaining to their investment projects.
Utilizing Equity Investments
JBIC can make equity investments in the following cases.
Types of Projects
Japanese companies make Equity Investments in an overseas project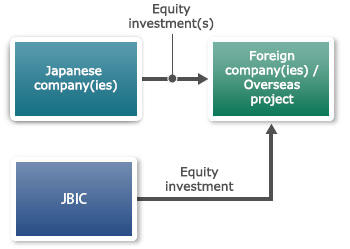 Japanese companies acquire equity interests in a foreign company to form business alliance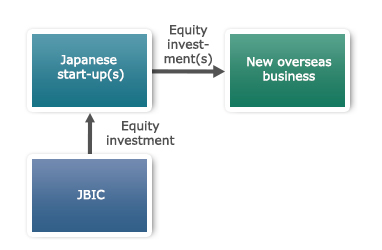 Japanese companies participate in fund (and perform such major role as general partner in their management and investment decisions)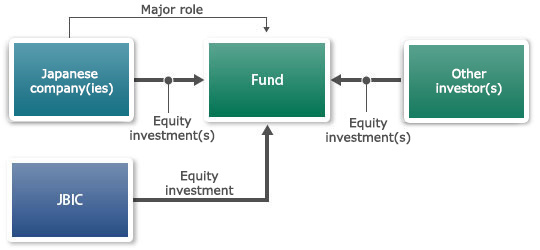 Japanese companies form a consortium and participate in an international fund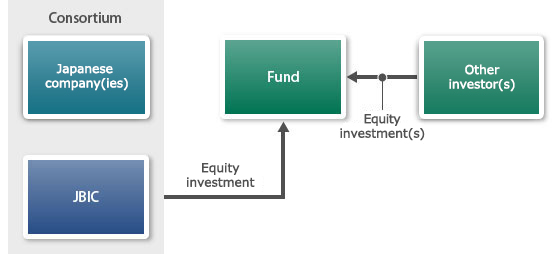 Note: JBIC may also make equity investment in the following cases where Japanese firms do not have equity stakes.
Capital contribution to multilateral institutions and international funds when the projects to be undertaken by them will have concrete positive effects on the overseas business development of Japanese firms.
Exerting a favorable impact on the preservation of global environment.
Responding to disruption in general international financing activities.
Country Eligibility
While investments have to be made, in principle, in developing countries, projects in developed countries are also eligible in the following cases:
Projects contributing to the overseas development and acquisition of resources that are strategically important for Japan
Projects contributing to the maintenance and improvement of the international competitiveness of Japanese industries and associated with the following areas:



Railways (high-speed, inter-city projects and projects in major cities) 
Road business
Airports
Ports
Water business
Biomass fuel production
Renewable energy power generation
Nuclear power generation
Hydrogen
Power transformation, Transmission and distribution
Highly efficient coal-fired power generation
Coal gasification
Carbon capture and storage (CCS)
Highly efficient gas-fired power generation
Smart grid
Electricity Storage
Development of telecommunications network
Shipbuilding and Marine transport
Satellite launching and operation
Aircraft maintenance and sales
Medical business (related to positron beam therapy facility)
Manufacture of chemicals that use organic substances derived from animals and plants
Waste incineration and Waste to energy
M&A activities, etc.
Percentage in Total Investment
In principle, 50 percent or less of the total investment and on the condition that JBIC will not become the largest shareholder among Japanese investors.
Others
In principle, the exit conditions should be set forth prior to making decision on Equity Investments.
JBIC may provide both equity and loans for the same project.