Export loans are provided to overseas importers and financial institutions to support finance exports of Japanese machinery, equipment, and technology mainly to developing countries. In particular, products such as marine vessels, power generation facilities, and other types of plant equipment incorporate a significant amount of advanced technology, and their export will be instrumental in enhancing the technological base of Japanese industries. Furthermore, Japanese shipbuilding and plant facilities industries have a broad range of supporting industries, including SME producing parts and components, and thus the loans are expected to positively contribute to the business of these Japanese companies. Export loans in specific sectors are also available to developed countries.
Eligible Sectors of Export Loans in Developed Countries
Ships
Satellites
Aircrafts
Medical equipment
Equipments that contribute to reducing greenhouse gas emissions
Railways (high-speed, inter-city projects and projects in major cities)
Road business
Airports
Ports
Water business
Biomass fuel production
Renewable energy power generation
Nuclear power generation
Hydrogen
Fuel Ammonia
Power transformation
Transmission and distribution
Highly efficient coal-fired power generation
Coal gasification
Carbon capture and storage (CCS)
Highly efficient gas-fired power generation
Smart grid
Electricity Storage
Development of telecommunications network
Biopharmaceuticals
Manufacture of chemicals that use organic substances derived from animals and plants
Electric vehicles
Semiconductors
Waste incineration and Waste to energy
Development of goods and technologies irreplaceable for a stable supply of raw materials of products, etc.
Businesses with new technology, business model, etc.
Click to jump to the relevant section.
Types of Loans
Direct Loans to Foreign Buyers and Financial Institutions (Buyer's Credit (B/C) and Bank-to-Bank Loan (B/L))
A buyer's credit (B/C) and a bank-to-bank loan (B/L) are direct loans respectively provided to a foreign importer and a foreign financial institution for financing the import of Japanese machinery and equipment or the utilization of Japanese technical services. A direct loan to an importer is called buyer's credit and to a financial institution is called a bank-to-bank loan.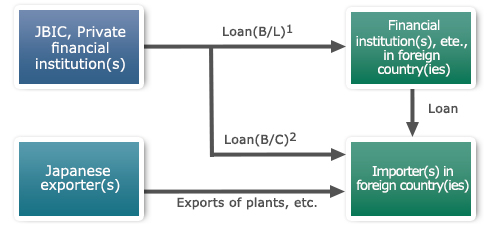 Cofinancing
JBIC provides loans in cofinancing with other financial institutions (usually the loan applicant's bank(s)) to meet the client's financial needs.
Loan Terms
Loan Amount
The loan amount is usually determined based on the OECD Arrangement. In principle, the loan amount should not exceed the value of an export contract or technical service contract and excludes down payment. While export loans, in principle, do not apply to local costs, such costs may be covered, fully or partially, based on the provisions of the OECD Arrangement.
Coverage
Export loans cover, in principle, 50-60% of goods and services exported. A loan applicant should make an inquiry at the relevant loan department for specific loan conditions.
Interest Rates
Interest rates are determined based on the provisions of the OECD Arrangement.
Repayment Period and Method
Loan repayment periods and methods are determined based on the OECD Arrangement. The maximum repayment period differ depending on importing countries, goods and services and contract values. Generally, the sum of principal and interest has to be repaid, in principle, in equal, semi-annual installments.
Risk Premium
Risk premium rates are determined based on the OECD Arrangement.
Security and Guarantee
JBIC assesses the creditworthiness of the borrower or the guarantor for each transaction and makes its own judgment on security or guarantee.