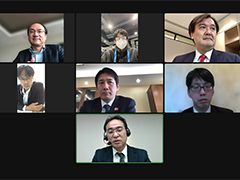 Second session's panel discussion ((clockwise from top left) JBIC's Chief Representative AGUIN from Hanoi, Mr. SHIRAYAMA Izumi of the China General Bureau of the Chunichi Shimbun, JBIC's Chief Representative KUCHIKI from Bangkok, JBIC's Chief Representative KISHIOKA from Manila, JBIC's Chief Representative KITAGAWA from Beijing, Mr. SHIBATA of THE HYAKUGO BANK, JBIC's Director-General NITTO of Finance Office for SMEs)
On February 15, 2022, the Japan Bank for International Cooperation (JBIC) jointly hosted an online seminar titled "2022 Asian Economy Seminar" with THE HYAKUGO BANK, LTD. This seminar was supported by the Chunichi Shimbun, the Mie Prefectural Government, the Mie office and Nagoya office of Japan External Trade Organization (JETRO), and the Chubu headquarters of the Organization for Small & Medium Enterprises and Regional Innovation, JAPAN, cooperated by Japan Credit Rating Agency, Ltd., and sponsored by the Japan Institute for Overseas Investment. The seminar was attended by a total of 82 participants, mostly from mid-tier enterprises and small and medium-sized enterprises located in the prefectures of Mie and Aichi.
The opening speech was made by Mr. WATANABE, General Manager of International Division of THE HYAKUGO BANK, followed by the first session's keynote presentation titled "Expansion of Sustainable Finance and Growth Strategy of Asian Countries" by Mr. MASUDA Atsushi, Counselor for International Affairs, Division Manager, SFEG International Affairs and Public Relations Office, Chief Sustainable Finance Analyst of Japan Credit Rating Agency.
Also, Advisor HONJO of JBIC's Finance Office for SMEs explained JBIC's business including the Post-COVID-19 Growth Facility*1.
In the second session's panel discussion titled "Local Circumstances from Viewpoints of Chief Representatives in China, Thailand, Vietnam, and the Philippines," Chief Representatives KITAGAWA, KUCHIKI, AGUIN, and KISHIOKA from JBIC's Representative Offices in Beijing, Bangkok, Hanoi, and Manila, respectively, talked about three themes: (1) business development regarding the SGDs and decarbonization, (2) the COVID-19 pandemic and the economy in the countries, and (3) impact of geopolitical risk on businesses. The discussion was facilitated by. Mr. SHIRAYAMA Izumi of the China General Bureau of the Chunichi Shimbun.
In cooperation with regional financial institutions, JBIC will continue to proactively provide valuable information that will help and support Japanese companies in their quest for overseas business expansion.