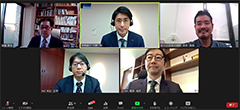 The online seminar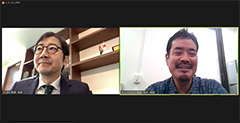 Left: JBIC's Chief Representative KURIHARA from India, who explained the latest trend and investment environment of India
Right: Mr. MIYAMOTO Shingo, Minister (Economic and Development) of the Embassy of Japan in India
On February 4, 2022, the Japan Bank for International Cooperation (JBIC) jointly hosted an online seminar titled "For Re-empowering the Japanese Manufacturing Industry – Road to a Re-empowered Future with the SDGs and Resilient Supply Chains," jointly with JOYO BANK, Ltd. This seminar was supported by the Ibaraki Prefectural Government (The Ibaraki Global Business Promotion Council), Organization for SME and Global Business Support, IBARAKI, and the Japan Institute for Overseas Investment. It was attended by a total of 125 participants, mostly from mid-tier enterprises and small and medium-sized enterprises located in the prefecture of Ibaraki.
The opening speech was made by Director General NITTO of JBIC's Finance Office for SMEs, followed by a presentation by Mr. GOTO Yasuhiro, a professor of the Faculty of Urban Innovation of Asia University about initiatives to achieve the SDGs in Asia and to address the issues the Japanese manufacturing industry faces.
Also, Chief Representative KURIHARA of JBIC's Representative Office in New Delhi talked about the latest trend and investment environment of India, which is drawing attention as a potential business destination. At the end of the talk, Mr. MIYAMOTO Shingo, Minister (Economic and Development) of the Embassy of Japan in India made a special remark about the support of the Embassy of Japan for mid-tier enterprises and small and medium-sized enterprises that will expand to India.
After the remark, Advisor HONJO of JBIC's Finance Office for SMEs explained JBIC's financial support system for mid-tier enterprises and small and medium-sized enterprises. At the end, Mr. KYUNO, Assistant Manager of Markets Administration & International Division of JOYO BANK gave accounts of JOYO BANK's overseas business expansion and projects where JOYO BANK co-financed with JBIC.
In cooperation with regional financial institutions, JBIC will continue to proactively provide valuable information that will help and support Japanese companies in their quest for overseas business expansion.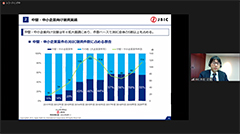 Presentation by Advisor HONJO of JBIC's Finance Office for SMEs about JBIC's financial support system for mid-tier enterprises and small and medium-sized enterprises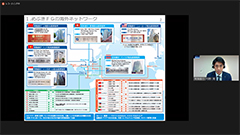 Presentation by Mr. KYUNO, Assistant Manager of Markets Administration & International Division of JOYO BANK about JOYO BANK's overseas business expansion and projects where JOYO BANK co-financed with JBIC