On March 24, 2022, Japan Bank for International Cooperation (JBIC; Governor: MAEDA Tadashi) held a Policy Dialogue titled "Workshop on Japanese Business Investment Trends in the New Normal" with the Foreign Investment Agency (FIA) of the Ministry of Planning and Investment of Vietnam. The participants include Resident Executive Officer MATSUDA Noriyasu, who is JBIC's Regional Head for Asia and Pacific, Mr. Do Nhat Hoang, Director General of the FIA, Ms. Dinh Thu Hang, Deputy Director General of the International Economic and Integration Department of the Central Economic Committee of the Communist Party of Vietnam, and several other members of Vietnamese ministries and agencies. Heads of four Japanese companies also participated as panelists. This online meeting was a great success, attracting proximately 180 attendees. It was the first event for JBIC to invite various stakeholders from Japan and Vietnam on such a large scale to discuss policies in Vietnam.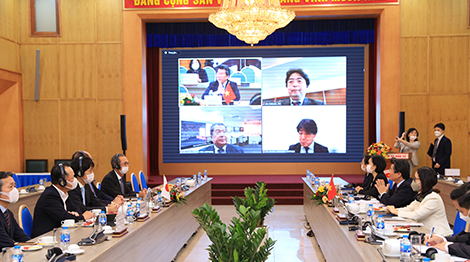 The proposals presented by JBIC at the meeting are based on the findings of the survey titled "Review on the implementation of Resolution No. 50-NQ/TW of the Politburo of the Central Committee of the Communist Party of Vietnam (Resolution 50) by Japanese Companies in Vietnam", which was conducted by JBIC's Representative Office in Hanoi in the form of a questionnaire for Japanese companies in Vietnam, in cooperation with Mitsubishi Research Institute, Inc. (MRI). The survey is intended to pursue further cooperation between Vietnam and Japan and to propose policies for realizing the business environment that Japanese companies are hoping for in terms of promotion of green investments and development of supporting industries.
The meeting started with FIA's explanation about the current situation of Japan's direct investment in Vietnam. The attendees were informed that the Government of Vietnam would encourage direct investment from overseas actively and selectively, based on quality, efficiency, technology, and environmental conservation as key assessment criteria. In addition, they were enlightened that new investments by Japanese companies would be welcomed in a range of sectors including digital transformation, clean energy, development of supporting industries, and electric vehicles, and that there were high expectations for cooperation between Japan and Vietnam on the development of highly skilled human resources.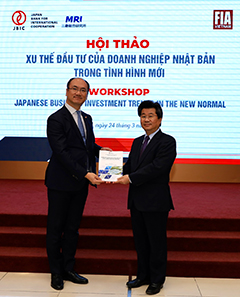 Chief Representative AGUIN Toru of JBIC Representative Office in Hanoi explained the findings of the survey, including that Japanese companies' investments in Vietnam are shifting more from labor intensive manufacturing towards value-added business, and that they are willing to strengthen their cooperation with Vietnamese companies, while showing strong concern about the lack of accessible information on Vietnamese companies and their technological expertise, and the lack of transparency in the operation of the legal system. He also said that the survey results indicated high expectations for industrial and social infrastructure improvements. Based on these findings, he propounded that, for high quality growth of Vietnam and further development of Japanese companies, it is important for Japanese and Vietnamese companies to co-create new industries with a self-motivated attitude toward creating the future anew. He added that, for the development of supporting industries in Vietnam, it is important to promote Japanese and Vietnamese companies' cooperation and technological capability, and to expand eco-friendly businesses by multiple means such as managing the legal system and improving regulations. Furthermore, Director KASUGA Takeshi of Division 1, Strategic Research Department, described some findings of the 33rd Survey on Overseas Business Operations by Japanese Manufacturing Companies, including how the headquarters of Japanese companies saw businesses in Vietnam.
In the open discussion, among the Japanese companies in Vietnam who cooperated in the questionnaire, Mr. UEDA Hiroyuki, General Director of Toyota Motor Vietnam Co., Ltd., Mr. SUDO Kazunori, General Director of Hitachi Asia (Vietnam) Co., Ltd., Mr. KONISHI Kazuhiro, Deputy General Director of Marubeni Vietnam Co., Ltd., and Mr. NAKAMURA Hideharu, General Director of Rorze Robotech Co., Ltd. took the stage as panelists. They told the audience about business initiatives in the areas that the Government of Vietnam is focusing on, such as decarbonization, supporting industries, digitalization, and development of highly skilled human resources. Some of the initiatives that are expected to be undertaken by the leadership of the Government of Vietnam were also mentioned, including introducing preferable tariffs on imported materials, implementing a system that facilitates clean energy introduction, and combining infrastructure technologies and digitalization technologies for more effective management of power grids. Director General Do Nhat Hoang of FIA commented that the initiatives in Vietnam that the Japanese companies described would be greatly welcomed and efforts would be made to improve the investment and business environment based on the companies' views expressed at this workshop.
As a policy-based financial institution, JBIC will continue to proactively perform a variety of activities including having dialogues about policies by utilizing the strong relationship with the Government of Vietnam and the Communist Party in order to contribute toward the improvement of the investment environment, which will help and support Japanese companies in their quest for overseas business expansion.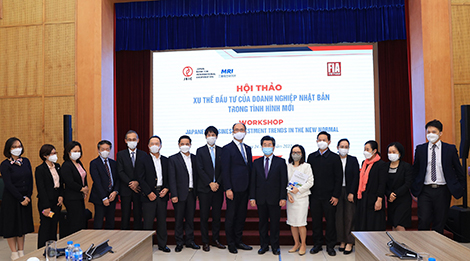 Related Information