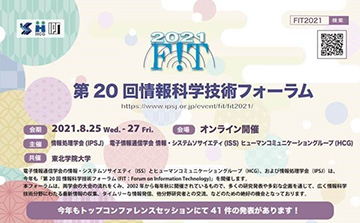 At the 20th Forum on Information Technology 2021 (FIT2021), held online in August 2021, the research paper "Time-series trends in topicality of SDG targets using newspaper corpus," authored by Director KASUGA and Deputy Director NAKAHARA of the Strategic Research Department of the Japan Bank for International Cooperation (JBIC), with Deloitte Analytics of Deloitte Touche Tohmatsu LLC, received the Forum on Information Technology Engagement Award 2021.
The research paper is based on the findings of the Industry Analysis using Text Mining, which JBIC commissioned Deloitte Analytics to collaborate on in FY2020. The research used the data of news articles of the past 10 years and attempted to transform the level of social interest in the SDG targets into a visual form in time-series trends with an analysis based on natural language processing. This approach was acclaimed as being unprecedented and aspiring.
In addition to the research on manufacturers' overseas business operations that JBIC has been conducting for over 30 years, JBIC will continue its effort to explore research methodology to understand the trend of a wider range of corporate activities.
*For further information, please contact the Strategic Research Department, JBIC. The opinions expressed in the research paper are not those of JBIC as an organization.
About the Forum
Name
20th Forum on Information Technology (FIT2021)
Date
Wednesday August 25 – Friday August 27, 2021
Venue
Online
Main Host
The Institute of Electronics, Information and Communication Engineers, Information and Systems Society (ISS), Human Communication Group (HCG) and Information Processing Society of Japan (IPSJ) (FIT2021 organizer)
Co-host
Tohoku Gakuin University
Research Paper
"Time-series trends in topicality of SDG targets using newspaper corpus" MOHRI Ken (Deloitte Touche Tohmatsu LLC), KASUGA Takeshi (JBIC), OBA Hisanaga (Deloitte Touche Tohmatsu LLC), NAKAHARA Erika (JBIC)