On November 9, 2021, the Japan Bank for International Cooperation (JBIC) participated in the 2021 French-Japanese Business Summit hosted by the French Chamber of Commerce and Industry in Japan, as a partner with the Embassy of France in Japan, KEIDANREN (Japan Business Federation), the Japan External Trade Organization (JETRO) and others. This online/onsite hybrid event was attended by speakers from a variety of organizations including Japanese and French companies, the Embassy of France in Japan, and the Ministry of Economy, Trade and Industry of Japan, attracting approximately 700 attendees.
From JBIC, Deputy Governor HAYASHI Nobumitsu delivered a presentation at the panel discussion about "Financing the Future: Finance as a Key Pillar to enable Sustainable Transformations," which was joined by Mr. MIYACHI Masato, Deputy President of MUFG Bank, Ltd., Mr. FUKUTOME Akihiro, Senior Managing Executive Officer of Sumitomo Mitsui Banking Corporation, and Ms. Danielle Baron, Global Head of Structured Finance of Crédit Agricole CIB. The speakers were moderated by Mr. Kim Schumacher, a Lecturer at the Tokyo Institute of Technology, who is an expert in Environmental, Social, and Governance (ESG). The presentation covered (1) JBIC's Medium-term Business Plan that includes JBIC's action plan of green finance and transition finance, (2) JBIC's ESG Policy, in which JBIC declares that it is committed to pursuing efforts to reduce its operational greenhouse gas emissions to net zero by 2030, and to achieve net zero emissions in its finance portfolio by 2050, and (3) financial commitments JBIC had made in loans and equity participation for green projects collaborating with French and Japanese companies. Following the presentation, the panelists and the moderator exchanged their views on financing for realizing a sustainable society.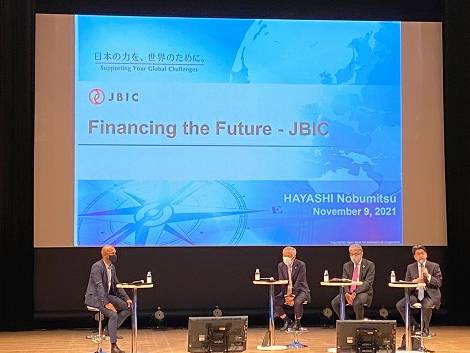 Presentation by JBIC Deputy Governor HAYASHI
In October 2020, the Government of Japan declared that it would aim to achieve carbon neutrality by 2050 to accomplish the objectives of the Paris Agreement. Also, JBIC, which in 2010 added "promoting business that has the purpose of preserving the global environment" to its missions, said in the Fourth Medium-term Business Plan launched in June 2021 that it would respond to energy transformation toward the realization of a decarbonized society. Furthermore, JBIC's ESG Policy, launched in October 2021 ahead of COP26, includes strengthening climate change-related finance as well as the points mentioned in (2) above. As a policy-based financial institution, JBIC will continue to be proactive in providing financial support for efforts to tackle climate change.