On March 17, 2022, the Japan Bank for International Cooperation (JBIC; Governor: MAEDA Tadashi) exchanged views with the Honorable Dan Tehan MP, Australian Minister for Trade, Tourism and Investment, and Export Finance Australia (EFA; CEO: Swati Dave) to further deepen Japan-Australia and Japan-U.S.-Australia cooperation, taking the opportunity of the opening of JBIC's Representative Office in Sydney*1. The meeting was held between Governor MAEDA and Senior Managing Directors OISHI and TANAKA from JBIC, Minister Tehan, and Ms. Swati Dave, CEO of EFA.
Australia is an important partner for Japan for realizing a "Free and Open Indo-Pacific." JBIC, the Department of Foreign Affairs and Trade (DFAT), EFA, and the United States International Development Finance Corporation (USDFC) are promoting initiatives to encourage economic growth and sustainable infrastructure investments in the Indo-Pacific region, including Pacific countries under the Trilateral Infrastructure Partnership*2.
At this online meeting, the participants shared their recognition of the importance of the Japan-Australia relationship that has developed to date, the achievements of the Trilateral Infrastructure Partnership, and the direction for further deepening the cooperation. The Australian parties congratulated JBIC on opening a Representative Office in Sydney and expressed their expectations for JBIC's participation in infrastructure, critical minerals, and hydrogen-related projects in Australia.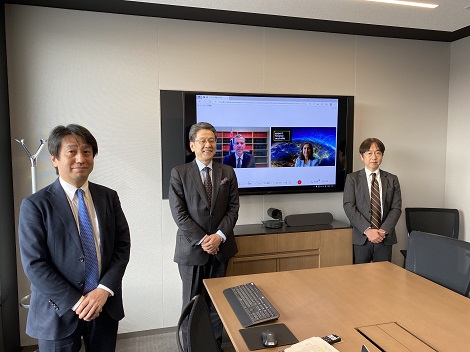 Participants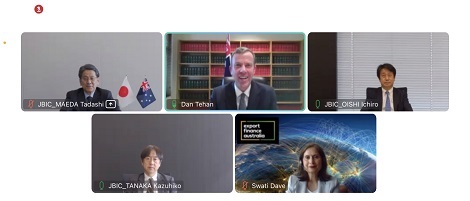 Online meeting
Through the opening of its Representative Office in Sydney, JBIC will cooperate with DFAT and EFA more closely and further support projects in a variety of sectors including hydrogen and critical minerals.
Related Information