On July 14, 2022, MATSUDA Noriyasu, Resident Executive Officer and Regional Head for Asia and Pacific of the Japan Bank for International Cooperation (JBIC; Governor: HAYASHI Nobumitsu) attended, as a panelist, the High-Level Seminar on Quality Infrastructure Investment in Asia, jointly hosted by the Organisation for Economic Co-operation and Development (OECD) and the Asian Development Bank Institute (ADBI). This event took place in the same week as the G20 Finance Ministers and Central Bank Governors Meeting held in Bali, Indonesia. The speakers of the event gathered from the World Bank Group, finance ministries of Asian countries, and companies of OECD member countries, among others.
At the seminar, the participants shared their views on the sound development of policies for high-quality, sustainable infrastructure investment in the Asia-Pacific region and recommendations for such investment. Resident Executive Officer MATSUDA joined the panel discussion on addressing what sustainability means for infrastructure investment in Asia.
In the panel discussion, Resident Executive Officer MATSUDA presented the roles and issues of ESG-related information in decision-making on infrastructure investment, and JBIC's ESG policy, which proclaims that JBIC discloses its ESG information in an appropriate manner based on recommendations such as the Task Force on Climate-related Financial Disclosures (TCFD). The presentation also showcased JBIC's opportunities of engagement with governments and other parties of project countries for high-quality, sustainable infrastructure investment. Following the presentation, the moderator from the OECD and the panelists from Sumitomo Mitsui Banking Corporation, the Ministry of Finance of India, and the Ministry of Finance of Indonesia shared their views with Resident Executive Officer MATSUDA.
JBIC's Fourth Medium-term Business Plan, launched in June 2021, identified the addressing of "global issues toward realizing sustainable development for the global economy and society" as its first key focus area. Also, in October 2021, JBIC released its ESG policy, which consists of JBIC's policies toward the realization of sustainability and climate change policy*1. JBIC will continue to contribute toward realizing sustainability by undertaking the initiatives identified in the Fourth Medium-term Business Plan.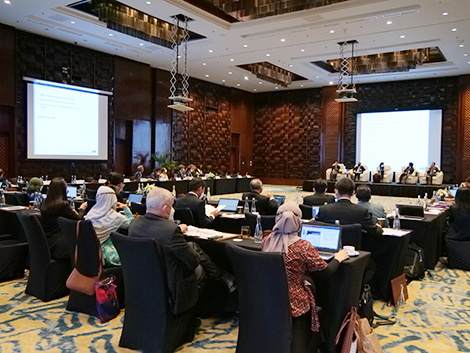 At the event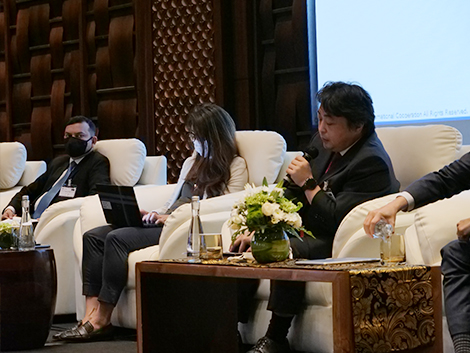 MATSUDA Noriyasu, Resident Executive Officer and Regional Head for Asia
and Pacific of JBIC, giving a presentation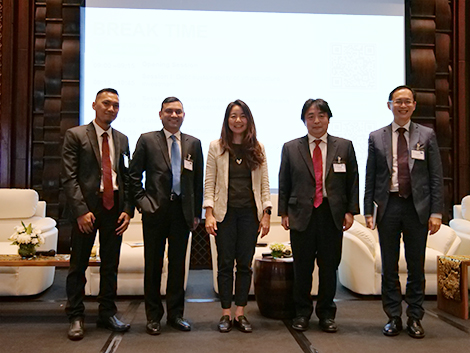 Participants of the panel discussion