The 8th Tokyo International Conference on African Development (TICAD8) took place in Tunis, Tunisia, from August 27 to 28, 2022.
JBIC took the opportunity of TICAD8 to hold and participate in meetings with representatives from 13 countries and institutions, further strengthening the relationships with African countries and development financial institutions, while exchanging opinions on specific possibilities for providing financial support.
In addition, JBIC signed memoranda of understanding with the Ministry of Finance, Planning and Economic Development of the Republic of Uganda, the Ministry of Economy and Finance of the Republic of Côte d'Ivoire, and the West African Development Bank (BOAD), to facilitate, inter alia, the structuring of environmental preservation projects where Japanese companies will participate in the region*1.
As Japan's policy-based financial institution, JBIC will continue to actively support the creation of business opportunities for Japanese companies in Africa for the realization of sustainable development of Africa, including the improvement of access to such basic infrastructures as electricity, food, and medical services, while collaborating with local governments and overseas regional development finance institutions.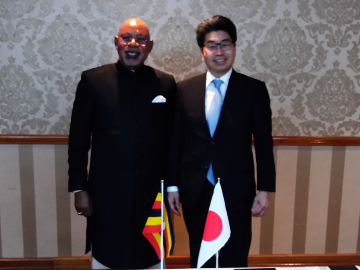 Meeting with Republic of Uganda

Meeting with West African Development Bank

Meeting with Republic of Côte d'Ivoire