On October 10, 2022, HAYASHI Nobumitsu, Governor of the Japan Bank for International Cooperation (JBIC), participated in the closing event of the Clean H2 Infra Fund (the Fund) in Paris, France.
JBIC signed an agreement for equity participation in the Clean H2 Infra Fund S.L.P.*1 in March 2022. The event was hosted by Hy24, the investment manager of the Fund, to celebrate the closing of the Fund, which is focused on scaling proven hydrogen technologies for mature infrastructure assets and aims to play a major role in decarbonizing the global economy. At the event, the Fund's investors and other participants from the industry shared their views on the issues of the hydrogen-related sectors and their prospects. In the panel discussion, JBIC Governor HAYASHI discussed the importance of organizing the global supply chains of hydrogen and ammonia among the Chairman and CEO of TotalEnergies and other panelists, and also explained JBIC's willingness to contribute to creating secure and sustainable supply chains by promoting investments from the private sector with JBIC's flexible and bold financial facilitation.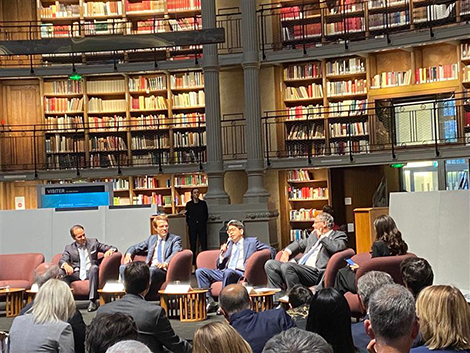 Panel discussion
As Japan's policy-based financial institution, JBIC will continue to support global environmental preservation efforts by drawing on its various financial facilities including its equity participation function.