On December 1, 2022, a "Workshop on Vietnam-Japan Cooperation for the Development of the Vietnamese Power Sector" took place. This workshop was jointly held by a group of Japanese entities, in which the Japan Bank for International Cooperation (JBIC) was the power sector leader, and the Vietnamese Ministry of Industry and Trade (MOIT), under the "Vietnam-Japan Joint Initiative"*1. The workshop's panel consisted of Chief Representative AGUIN Toru of JBIC's Representative Office in Hanoi, Deputy Minister Nguyen Sinh Nhat Tan of MOIT, and leaders of Vietnamese ministries, government agencies, and Japanese companies in Vietnam. Nearly 115 people gathered at the venue, joined by approximately 160 people online.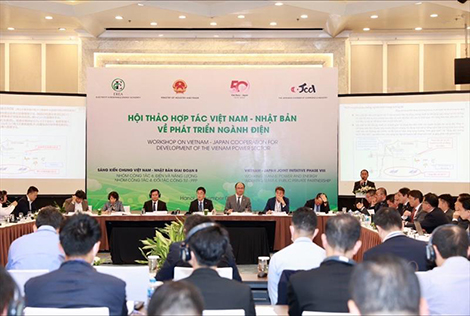 Workshop
As the leader of Working Team 6, which follows up on the progress of the electricity and energy measures within the Vietnam-Japan Joint Initiative, which aims to improve the business environment in Vietnam, JBIC's Representative Office in Hanoi promotes policy dialogue in Vietnam on a regular basis. This workshop was planned and took place with the aim of sharing up-to-date information on Vietnamese energy policy trends, Japanese supportive measures, technology, and knowledge, and issues pertaining to private capital mobilization. The opening remarks were made by the Deputy Chief of Mission, Minister WATANABE Shige of the Embassy of Japan in Vietnam and Deputy Minister Tan of MOIT. These were followed by presentations by MOIT's Institute of Energy and Vietnam's state-owned power company EVN on policies concerning and issues in implementing Vietnam's Power Development Plan 8 (PDP8), which is currently under preparation. JBIC Chief Representative AGUIN explained the activities of WT6, and Deputy Commissioner for International Affairs KOBAYASHI Izuru of the Agency for Natural Resources and Energy of the Japanese Ministry of Economy, Trade and Industry, gave an online presentation on the Asia Zero Emission Community (AZEC) Concept, the Asia Energy Transition Initiative (AETI), and others. In addition, Japanese companies' decarbonization efforts were explained by their respective representatives, namely, General Manager SUZUKI Seiichi of Overseas Business Office, Tokyo Electric Power Company Holdings, Inc., Director SHIMAZU Masaki of Overseas Business Office, TEPCO Power Grid, Incorporated, General Manager YASUMOTO Koji of Business Strategy Unit, Business Development Strategy Group, JERA Co., Inc., and General Manager Hanoi & HCMC Liaison Office KAMO Kohei of Mitsubishi Heavy Industries, Ltd. In addition, Managing Director MASUYAMA Takeshi of Regional Head of Vietnam and Head of Hanoi Branch, MUFG Bank, Ltd. gave a presentation about bankability issues. Director General Hoang Tien Dung of the Electricity and Renewable Energy Agency, MOIT commented that he was able to share that financing for large scale power projects would be a key issue for the future, showing willingness for continued dialogue with Japanese partners.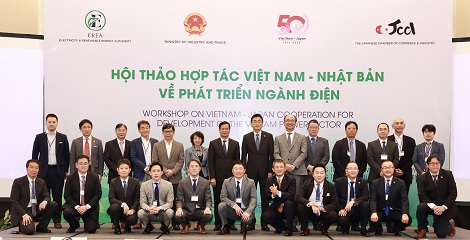 Japanese and Vietnamese speakers and key participants of the workshop
As Japan's policy-based financial institution, JBIC will continue to actively promote policy dialogue, by leveraging its strong relationship with the Government of Vietnam and the Communist Party of Vietnam, to contribute toward enhancing the investment environment for the overseas business expansion of Japanese companies.
Note
*1

The Vietnam-Japan Joint Initiative is a framework agreed on by the prime ministers of Japan and Vietnam in April 2003. The initiative aims to strengthen Vietnam's industrial competitiveness by improving the investment environment in Vietnam and increasing foreign investment.
Related Information