Representatives of the Australia-Japan-United States Trilateral Infrastructure Partnership (TIP)*1 held a virtual conference with the Deputy Chair of the Communist Party of Vietnam (CPV) Central Economic Commission (CEC) and senior officials of the Ministry of Industry and Trade (MOIT) of Vietnam on January 18, 2022. The TIP is led by the Japan Bank for International Cooperation (JBIC; Governor: MAEDA Tadashi), the United States International Development Finance Corporation (DFC; CEO: Scott Nathan), the Department of Foreign Affairs and Trade (DFAT) of Australia, and Export Finance Australia (EFA; CEO: Swati Dave). This conference was held as a follow-up to the virtual conference with Vietnamese governmental and economic organizations in October 2020*2.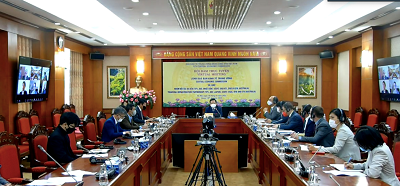 Participants in Vietnam
At this conference, views were exchanged on financial cooperation for addressing the growing demand for power in Vietnam, with a focus on energy transition. At the 26th session of the Conference of the Parties to the United Nations Framework Convention on Climate Change (COP 26) in November 2021, the Government of Vietnam announced its goal of achieving carbon neutrality by 2050. The trilateral partners welcomed Vietnam for its efforts in actively working on climate change.
Vietnam is drawing up its Eighth Power Development Plan (PDP 8) with the aim of utilizing and expanding gas-fired power and renewable energy to achieve the above-mentioned goal. The trilateral partners welcomed Vietnam's energy transition efforts such as this and agreed to cooperate to address the rise of power demand that Vietnam will face, by leveraging financial schemes of each country.

Representatives of the Trilateral Infrastructure Partnership
Acknowledging that securing funds from foreign private sectors is essential for the development of infrastructure in Vietnam, the Communist Party of Vietnam Central Economic Commission stressed that it would strive to build an appropriate investment environment for secure funding and expressed strong expectations for the cooperation by Trilateral partners.
The TIP is an initiative to drive economic growth in the Indo-Pacific and promote sustainable infrastructure investment in the region through cooperation among countries that share values toward the realization of a free and open Indo-Pacific. The virtual conference further advanced the efforts of the Trilateral partnership.
Related Information