On January 12, 2023, MAEDA Tadashi, Managing Director and Chairman of the Board of Directors of the Japan Bank for International Cooperation (JBIC), made a keynote speech at the Indo-Pacific Business Forum (IPBF) in Tokyo.
This online/on-site hybrid forum was hosted and sponsored by the U.S. Trade and Development Agency (USTDA), in partnership with the U.S. Department of State and the Ministry of Foreign Affairs of Japan. Senior Officials from Japan and the United States including Ms. Enoh T. Ebong, Director of USTDA, Mr. Rahm Emanuel, U.S. Ambassador to Japan, Mr. Antony J. Blinken, U.S. Secretary of State, Mr. HAYASHI Yoshimasa, Minister of Foreign Affairs of Japan, and Mr. NISHIMURA Yasutoshi, Minister of Economy, Trade and Industry of Japan gave remarks, and panel discussions were held on public and private initiatives toward the development of the Indo-Pacific.
Upon invitation from USTDA, with which JBIC signed a Memorandum of Cooperation in May 2022*1, JBIC Chairman MAEDA delivered a keynote speech on multilateral collaborations such as the Trilateral Infrastructure Partnership (TIP) between Japan, Australia, and the United States, the Quad (Japan, Australia, the United States, and India), and the Indo-Pacific Economic Framework for Prosperity (IPEF). MAEDA also mentioned JBIC initiatives, including support for energy transition in Asia, and the Joint Statement on the Vietnam Climate Finance Framework (VCFF)*2, which supports Vietnam's goal of achieving net zero greenhouse gas (GHG) under the TIP*3.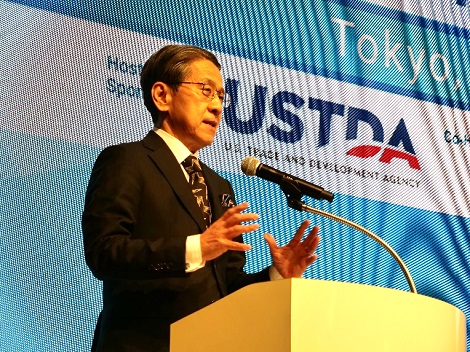 JBIC Chairman MAEDA gives a keynote speech
As Japan's policy-based financial institution, JBIC will continue to financially support the creation of business opportunities and promotion of business for Japanese companies, and contribute toward the further development of economic relations between related countries through close collaboration with overseas governments and governmental institutions.
Note
*1

*2

*3

For the outline of the joint mission under the Australia-Japan-United States Trilateral Infrastructure Partnership in October 2022, see

Topic on January 12, 2023

.