Under the Australia-Japan-United States Trilateral Infrastructure Partnership*1 (TIP), a joint mission was dispatched to Vietnam from October 6 to October 7, 2022. The joint mission, which consisted of representatives of the Japan Bank for International Cooperation (JBIC), the U.S. International Development Finance Corporation (DFC), the Department of Foreign Affairs and Trade (DFAT) of Australia, and Export Finance Australia (EFA), had policy dialogue with the Deputy Chair of the Communist Party of Vietnam (CPV) Central Economic Commission (CEC) and senior officials of the Ministry of Industry and Trade (MOIT) and the Ministry of Natural Resources and Environment (MONRE) of Vietnam.
Vietnam aspires to become a developed country by 2045 and to achieve net zero greenhouse gas (GHG) emissions by 2050. The trilateral partners held virtual conferences with the CEC, MOIT, etc. in October 2020*2 and January 2022*3, where they communicated their policy to support Vietnam by leveraging their financial schemes and so on. During the visit to Vietnam, the joint mission reiterated the trilateral partners would accelerate their support for Vietnam in advancing in the energy transition. The Vietnamese participants told the partners that Vietnam would continue its efforts to, inter alia, secure funding, introduce new technologies, and develop an appropriate investment environment for implementing projects based on its Eighth Power Development Plan (PDP 8), which is under preparation. They also expressed strong expectations for the TIP's support for these efforts.
Based on the outcome of the joint mission, the TIP also announced a joint statement on January 12, 2023*4, on the Vietnam Climate Finance Framework (VCFF), which aims to support Vietnam in achieving net zero GHG emissions.
The TIP is an initiative to promote cooperation among countries that share values toward the realization of a free and open Indo-Pacific to drive economic growth and promote sustainable infrastructure investment in the region. The dispatch of the joint mission further advanced the efforts developed under the TIP.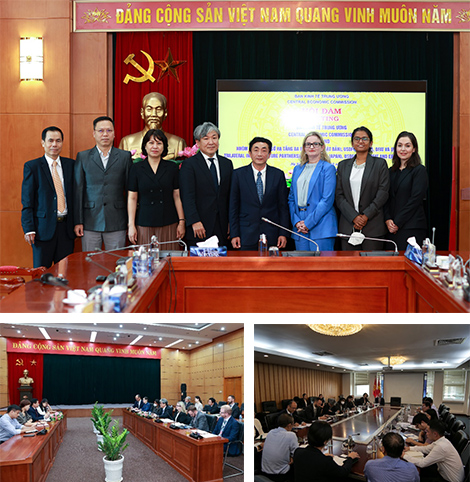 Related Information