On March 24, 2022, Chief Representative KURIHARA Toshihiko of the Representative Office in New Delhi of the Japan Bank for International Cooperation (JBIC; Governor: MAEDA Tadashi) participated, as a panelist, in the India-Japan Hydrogen Seminar hosted by the New Energy and Industrial Technology Development Organization (NEDO), Japan's national organization for research and development. The seminar was one of the commemorative events of the 70th anniversary of the establishment of diplomatic relations between Japan and India, and it took place as an online/onsite hybrid event, joined by speakers from Japanese and Indian companies and government organizations, attracting a total of approximately 300 attendees.
Seminar
The seminar began with speeches by Mr. KAWAZU Kunihiko, Deputy Chief Mission of the Embassy of Japan in India, and Dr. Vandana Kumar, Joint Secretary of the Indian Ministry of New and Renewable Energy. Chief Representative KURIHARA participated in a panel discussion about the means of utilizing hydrogen-related technologies and initiatives for executing financing. The panel discussion was joined by Mr. OHIRA Eiji, Director General of the Fuel Cell and Hydrogen Technology Office of NEDO, and Mr. Alok Sharma, Executive Director of the Indian Ministry of Petroleum and Natural Gas, who spoke about the potential of Japan-India cooperation in the Indian hydrogen and ammonia sectors from technological and policy perspectives. At the end, Mr. Amitabh Kant, CEO of the National Institution for Transforming India (NITI Aayog) introduced expectations for the economic effects of utilizing hydrogen and ammonia in India by multiple means, including Japan-India cooperation, and expressed the supportive policy of the Government of India. The topics of Chief Representative KURIHARA's presentation included the potential of JBIC's financing for the hydrogen and ammonia value chain as well as JBIC's financial functions and the initiatives JBIC had brought about in India. He also had an opportunity to exchange views in a Q&A session that followed.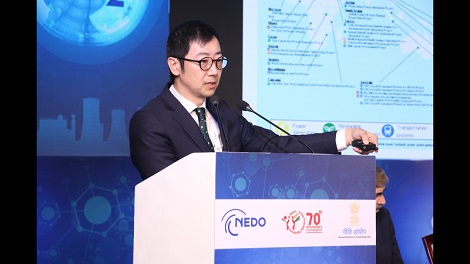 Presentation by Chief Representative KURIHARA of JBIC's Representative Office in New Delhi
In October 2020, the Government of Japan declared that it would aim to achieve carbon neutrality by 2050 to accomplish the objectives of the Paris Agreement. Also, JBIC, which in 2010 added "promoting business that has the purpose of preserving the global environment" to its missions, said in the Fourth Medium-term Business Plan launched in June 2021 that it would respond to energy transformation toward the realization of a decarbonized society. Furthermore, JBIC's ESG Policy, launched in October 2021 ahead of COP26, includes strengthening climate change-related finance.
As a policy-based financial institution, JBIC will continue to be proactive in providing financial support for efforts to tackle climate change.
Related Information