Region: The Middle East
Infrastructures
Overseas Investment Loans
October 7, 2019
The Japan Bank for International Cooperation (JBIC; Governor: Tadashi Maeda) signed on October 4 a loan agreement amounting up to USD44 million (JBIC portion) with OYAK NYK Ro-Ro Liman Isletmeleri A.S. (OYAK NYK Ro-Ro Port), a Turkish company invested in by Nippon Yusen Kabushiki Kaisha (NYK LINE). The loan is co-financed with MUFG Bank, Ltd.


The loan is intended to provide the funds necessary for the construction and operation of a car logistics terminal in Körfez, Kocaeli Province. The project will be undertaken by Turkish subsidiary OYAK NYK Ro-Ro Port, which is jointly invested in by NYK LINE and OYAK Denizcilik ve Liman Isletmeleri A.S., a Turkish port-management company that is a subsidiary of Ordu Yardimlasma Kurumu (OYAK).


NYK LINE, under its car marine transport division, conducts the operation of terminals as well as marine vessel logistics all over the world. Turkey is attracting attention globally as a base for the manufacture and export of automobiles, and is forecast for a great increase in automobile manufacturing. Amidst these developments, this loan will support the construction and operation of a car logistics terminal. It will also contribute to the overseas expansion of NYK LINE's terminal operation business through collaborating with the company's marine vessel logistics business.


Furthermore, OYAK, being complementary professional pension fund in Turkey, holds several prominent affiliated companies in various sectors such as Turkey's largest domestic steel manufacturer. Going forward, opportunities for Japanese companies to cooperate with OYAK-affiliated companies are expected to expand and diversify. The strengthening of relations between JBIC and OYAK though this loan is expected to generate investment and export opportunities for Japanese companies through cooperation with those companies.



As Japan's policy-based financial institution, JBIC will continue to support the overseas business deployment of Japanese companies, by drawing on its various financial facilities and schemes for structuring projects, and performing its risk-assuming function.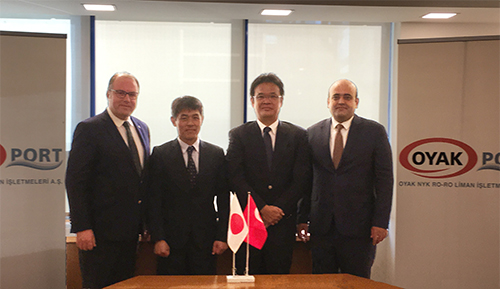 Related Information