October 21, 2019
The Japan Bank for International Cooperation (JBIC; Governor: Tadashi Maeda), signed on October 19 a memorandum of understanding (MOU) with the European Bank for Reconstruction and Development (EBRD; President: Sir Suma Chakrabarti), taking the opportunity of the Annual Meetings of the Boards of Governors of the World Bank Group and the International Monetary Fund. The objective of the MOU is to fortify cooperation between both parties, including the promotion of the global environmental preservation and innovations.


JBIC has been enhancing initiatives in the environmental sector and established the Global Facility to Promote Quality Infrastructure Investment for Environmental Preservation and Sustainable Growth (QI-ESG)

*1

in July 2018. The EBRD also aims to increase the percentage of its Green Investment over the total commitment amount to be 40% in FY 2020. The bank has a long track record in supporting environmental investments and providing technical assistance mainly in Central and Eastern Europe, Central Asia and North Africa. The signing of this MOU will further strengthen the pursuit of co-financing for global environmental preservation in these regions.

Furthermore, in the Third Medium-Term Business Plan, released in June 2018, JBIC aims to support the incorporation of innovations from overseas by Japanese companies, as well as their expansion in the new business fields and overseas through innovations. As the EBRD also aims to briskly implement financing in the field of innovation, JBIC and the EBRD are expected to cooperate in the field which gain attention worldwide.



As Japan's policy-based financial institution, JBIC will continue to actively support the creation and promotion of business opportunities for Japanese companies while closely collaborating with international financial institutions.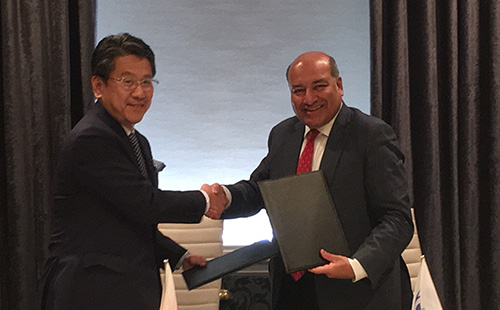 Note
*1