Region: Africa
Environment
Infrastructures
Untied Loans
March 25, 2021
The Japan Bank for International Cooperation (JBIC; Governor: MAEDA Tadashi) signed on March 24 a general agreement to provide a credit line with the Government of the Republic of Benin (Benin) amounting to up to EUR30 million, of which JBIC's portion is EUR18 million.


The credit line, JBIC's first extended to Benin, is intended to provide, through the Government of Benin, the funds necessary for implementing environmental preservation projects in Benin under GREEN operations

*1

.

The Government of Benin signed the Paris Agreement in 2016 and formulated its Nationally Determined Contributions (NDC), a plan consisting of measures against climate change, in 2017. The Government expressed its determined commitment to the measures against climate change by, for example, aiming to reduce greenhouse gas emissions, excluding the forestry sector, by 21.4 % compared to the business-as-usual scenario by 2030. The credit line is expected to contribute toward reducing greenhouse gas emissions through the promotion of environmental preservation projects in Benin and to help realize sustainable development of Benin itself. It is also in line with the Long-Term Strategy under the Paris Agreement as the Growth Strategy established by the Government of Japan in June 2019.


As Japan's policy-based financial institution, JBIC will continue to provide financial support for sustainable development efforts, including those for global environmental preservation, by drawing on its various financial facilities and schemes for structuring projects and by performing its risk-assuming function.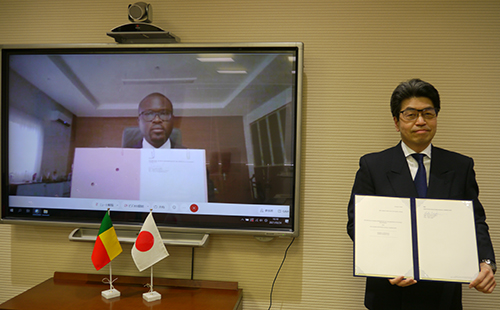 Note
*1
Related Information