Region: North America
Infrastructures
Environment
Equity Participations
June 17, 2020
The Japan Bank for International Cooperation (JBIC; Governor: MAEDA Tadashi) signed on June 16 a shareholders' agreement for a joint investment with Mitsui & Co., Ltd. (Mitsui), of up to approximately USD23 million (JBIC portion) in FirstElement Fuel Inc. (FEF) in the United States. JBIC will invest through its Special Operations Account

*1

.

Since its incorporation in 2013, FEF has received support from companies such as Toyota Motor Corporation (Toyota) and Honda Motor Co., Ltd. (Honda)

*2

and from public agencies such as the California Energy Commission, California Air Resources Board, the South Coast Air Quality Management District, and the Bay Area Air Quality Management District. The company is currently operating hydrogen stations in 20 locations across the State of California, which is one of the largest markets for hydrogen fuel cell electric vehicles (FCEVs) globally. The funds will be used to expand FEF's hydrogen station network.

Through its investment in FEF, Mitsui aims to gain a stronger foothold in the global hydrogen business by acquiring insight into hydrogen demand creation and the downstream hydrogen business, as well as creating synergies between a Norwegian manufacturer of lightweight high-pressure hydrogen tanks in which Mitsui invested in 2016. Moreover, FEF's expansion of the hydrogen station network in California is expected to help increase sales of Toyota's and Honda's FCEVs in the state. In this way, JBIC's investment in FEF is intended to support the overseas expansion of these Japanese companies as well as to contribute to maintaining and enhancing the international competitiveness of Japanese industry.


Hydrogen, which does not emit CO2 when used as fuel, is drawing attention as the energy solution of the future. With the Basic Hydrogen Strategy released in December 2017 and the Integrated Innovation Strategy 2019 which was approved by Cabinet Office in June 2019, the Japanese government is aiming to lead the world in creating a hydrogen-based society through the promotion of the hydrogen industry and its global competitiveness. Therefore, this investment is in line with Japanese government policy related to hydrogen.


As Japan's policy-based financial institution, JBIC will continue to support the overseas business expansion of Japanese companies by drawing on its various financial facilities for structuring projects, including its equity participation function, and performing its risk-assuming function.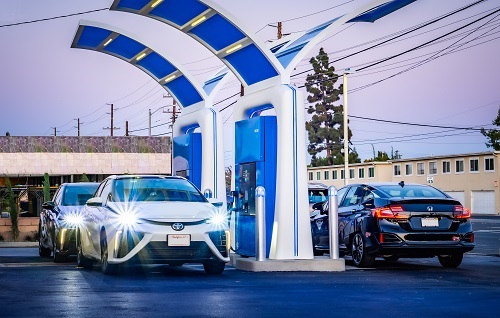 Note
*1

*2
Related Information