Region: Oceania
Energy and Natural Resources
Environment
January 26, 2023
The Japan Bank for International Cooperation (JBIC; Governor: HAYASHI Nobumitsu) signed today a memorandum of understanding (MOU) with the State of Western Australia to build a comprehensive strategic partnership.


Western Australia is endowed with a wealth of minerals and energy resources such as iron ore and natural gas, and it also has great potential in the fields of renewable energy power generation, critical minerals, hydrogen, ammonia, and CCUS

*1

. Given the geographical proximity to Japan, Australia is an important partner for supply chain resilience, and Japanese companies are considering participating in businesses including new projects in the abovementioned fields in Western Australia.

The MOU aims to strengthen the cooperation between JBIC and the State of Western Australia for further promoting Japanese companies' investments in Western Australia. It is a developmental outcome of the previous MOU that JBIC signed with the State of Western Australia in November 2011.


Both Japan and Australia announced their goals of achieving carbon neutrality by 2050. Also, at the Japan-Australia leaders' meeting on October 22, 2022, the Japanese and Australian Prime Ministers concurred to work more closely by further strengthening the two countries' security and defense cooperation and resources and energy security cooperation for the realization of a "Free and Open Indo-Pacific." Under these circumstances, JBIC's strengthening of cooperation with the State of Western Australia in the fields of hydrogen, ammonia, CCUS, and critical minerals under this MOU as well as in the infrastructure, energy, and resources sectors where the two organizations have been cooperating, will contribute toward creating business opportunities and promoting business in Western Australia for Japanese companies. It is also expected to further strengthen the "Special Strategic Partnership" between Japan and Australia that the Government of Japan is promoting.


As Japan's policy-based financial institution, JBIC will continue to financially support the creation of business opportunities and the promotion of business for Japanese companies and contribute toward the further development of economic relations between related countries by collaborating closely with such overseas governments and government institutions.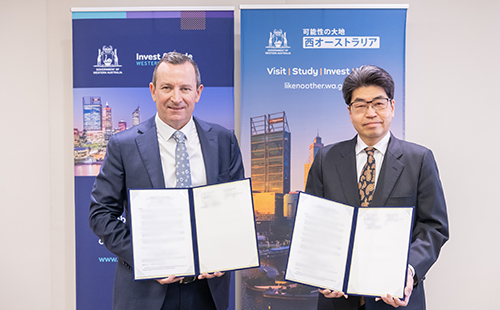 Note
Related Information