Region: Europe
Infrastructures
Environment
September 5, 2022
The Japan Bank for International Cooperation (JBIC; Governor: HAYASHI Nobumitsu) signed a memorandum of understanding (MOU) on September 2 with the Department for International Trade (DIT; Secretary of State: Rt. Hon. Anne-Marie Trevelyan)

*1

of the United Kingdom (UK) to further strengthen cooperation between two institutions for promoting investments by Japanese companies in the fields of clean energy, quality infrastructure, and related technologies in the UK.

This MOU is aimed at the collaboration between JBIC and DIT for the purpose of further supporting the efforts of Japanese companies to invest in the UK, in such areas as renewable energy, hydrogen, CCUS

*2

, transport, and digital. This MOU also incorporates updates made to the existing MOU with DIT that JBIC signed in September 2017

*3

and with the former UK Trade and Investment (currently replaced by DIT) that JBIC signed in April 2012

*4

.

In January 2019, the Prime Ministers of both countries issued a "Japan-U.K. Joint Statement" and shared the view that they would work on strengthening cooperation in fields such as quality infrastructure and accelerating energy innovation, including the deployment of hydrogen technology and CCUS. Furthermore, both Japan and the UK confirmed to further develop their relationship including cooperation in such areas as climate change at the Japan-UK EPA Joint Committee held in February 2022. In addition, the UK government announced its National Infrastructure Strategy in November 2020, which included its commitment to supporting private investment, and many Japanese companies have shown their interest in investing in the UK. Under these circumstances, enhancing the cooperative relationship between JBIC and DIT will encourage Japanese companies to further create business opportunities and conduct their business in the UK.


As Japan's policy-based financial institution, JBIC will continue to support Japanese companies to participate in clean energy and quality infrastructure projects in the UK by collaborating closely with the UK government, and will provide financial support for the further deepening and development of economic relations between Japan and the UK.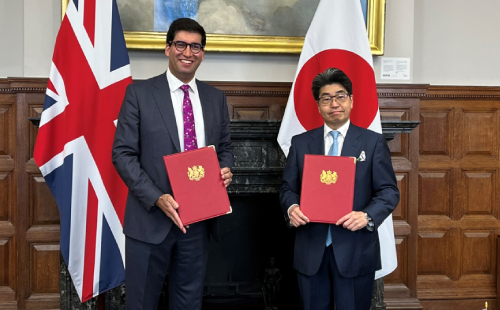 Note
Related Information