Region: Europe
Infrastructures
Environment
September 21, 2022
The Japan Bank for International Cooperation (JBIC; Governor: HAYASHI Nobumitsu) signed a memorandum of understanding (MOU) today with Bank Gospodarstwa Krajowego (BGK; President of the Management Board:Beata Daszyńska-Muzyczka) of the Republic of Poland (Poland) to further strengthen cooperation between the two institutions in fields such as energy security and climate change in Poland and other countries including Ukraine-neighboring countries.


BGK is a policy-based financial institution wholly owned by the Government of Poland and provides financial services to realize the sustainable economic and social development for Poland. This MOU aims to further strengthen cooperation between the two institutions for promoting loans and investments in fields such as energy-related infrastructure projects that will enhance energy security, and renewable energy projects which contribute to achieving energy transitions and carbon neutrality in third countries, including Poland and other Ukraine-neighboring countries.


Japan and Poland signed the "Action Plan for the Implementation of the Strategic Partnership between the Government of Japan and the Government of the Republic of Poland for the years 2021-2025" at the Japan-Poland Foreign Ministers' meeting held in May 2021, which includes strengthening collaboration in the field of energy, climate change and environment. In addition, at the G7 Foreign and Development Ministers' Meeting held in May 2022, a policy for providing support to Ukraine-neighboring countries, including Poland, was announced. The G7 Foreign Ministers' Statement on Energy Security issued in August 2022 also stated that the G7 would coordinate actions to reinforce their collective energy security and resilience. Under these circumstances, through this memorandum, it is expected that building and enhancing the cooperative relationship, sharing knowledge and experience, and searching for opportunities of collaborative support between JBIC and BGK will contribute to creating business opportunities for Japanese companies in these fields.


As Japan's policy-based financial institution, JBIC will continue to support Japanese companies to participate in overseas clean energy projects by closely collaborating with such overseas public financial institutions, and will provide financial support for resolving global climate change and social issues.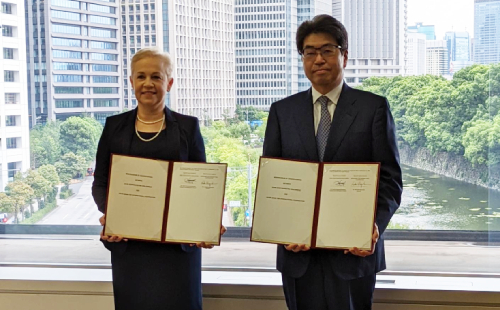 Related Information