Region: Asia
Infrastructures
Environment
December 9, 2022
The Japan Bank for International Cooperation (JBIC; Governor: HAYASHI Nobumitsu) signed today a memorandum of understanding (MOU) with the Export-Import Bank of Thailand (EXIM Thailand). The objective of the MOU is to strengthen cooperation on the promotion of connectivity, decarbonization, etc., in Thailand and the Mekong region.


Thailand leads the initiatives of the Ayeyawady-Chao Phraya-Mekong Economic Cooperation Strategy (ACMECS), a cooperation framework among Thailand, Cambodia, Laos, Myanmar, and Vietnam, to achieve economic development in the Mekong region. With the Bio-Circular-Green (BCG) economic model, a post-pandemic, sustainable growth model, as a national strategy, Thailand also aims to achieve long-term, sustainable development by applying the BCG economic model to wider economies including the Mekong region.


EXIM Thailand, a state-owned financial institution established in September 1993 to support Thai export, import, and investment, intends to finance businesses in Thailand and overseas, particularly in the Mekong region, based on the policies of the Government of Thailand, including the ACMECS and the BCG economic model. The MOU is to promote collaboration between JBIC and EXIM Thailand on such areas as connectivity and decarbonization in Thailand and the Mekong region and to facilitate the expansion of business opportunities for Japanese companies in the region.


As Japan's policy-based financial institution, JBIC will continue to provide financial support for the maintenance and improvement of the international competitiveness of Japanese industry and initiatives to secure important resources for Japan and preserve the global environment, by assisting Japanese companies in participating projects, in collaboration with overseas public financial institutions and other organizations.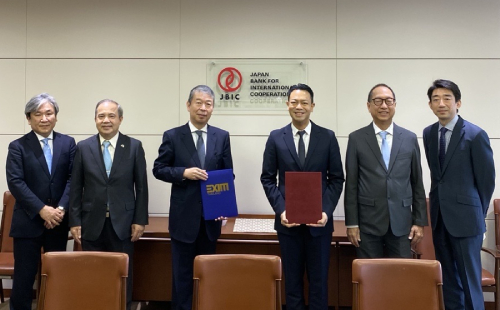 Related Information