Region: Asia
Infrastructures
Environment
Untied Loans
Guarantees
December 15, 2022
The Japan Bank for International Cooperation (JBIC; Governor: HAYASHI Nobumitsu) signed on December 14 a loan agreement amounting to up to USD50 million, of which JBIC's portion is USD30 million, with PT Pertamina (Persero) (Pertamina), Indonesia's state-owned oil company. The loan is co-financed with MUFG Bank, Ltd. and the Chiba Bank, Ltd. JBIC will also provide a guarantee for the portion co-financed by the private financial institutions.


The loan is intended to provide Pertamina with the necessary funds for renewable energy projects in Indonesia, under JBIC's GREEN operations

*1

.

Pertamina is committed to supporting the Government of Indonesia's commitment to achieve net-zero emissions by 2060 or even sooner, through creating cleaner energy through decarbonization of business and new business building. Through the loan, JBIC supports the Government of Indonesia's and Pertamina's initiatives that contribute toward preserving the global environment.


Also, the loan aligns with the Just Energy Transition Partnership (JETP), which was agreed on by the Government of Indonesia and its partner countries, including Japan and the United States, in November 2022. In addition, the loan is in line with the concept of the Asia Zero Emission Community (AZEC) released by the Governments of Japan and Indonesia in November 2022.


Furthermore, the loan aligns with the memorandum of understanding that JBIC signed with Pertamina in November 2022 to strengthen a partnership between the two organizations for the clean energy sector

*2

.

As Japan's policy-based financial institution, JBIC will continue to financially support initiatives for global environmental preservation, by drawing on its various financial facilities and schemes for structuring projects and by performing its risk-assuming function.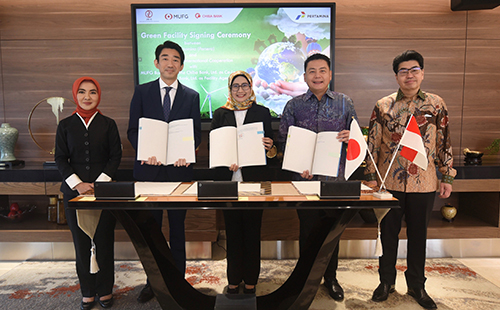 Note
Related Information