Region: Asia
Energy and Natural Resources
Environment
May 23, 2023
The Japan Bank for International Cooperation (JBIC; Governor: HAYASHI Nobumitsu) signed on May 22 a memorandum of understanding (MOU) with PT Pupuk Indonesia (Persero) (Pupuk) of Indonesia. The objectives of the MOU include promoting cooperation in sectors that use hydrogen and ammonia as a fuel source.


As Indonesia's state-owned fertilizer company, Pupuk strives to decarbonize its operations and to cooperate with Japanese companies in clean ammonia projects with a view to exporting clean ammonia in the future. Also, in the Fourth Medium-term Business Plan, released in June 2021, JBIC aims to respond to energy transformation toward the realization of a decarbonized society.


With this MOU between JBIC and Pupuk, under which the framework for collaboration between the two organizations is to be developed, JBIC aims to accelerate the structuring of projects for developing the supply chain of hydrogen and ammonia as a fuel source. The signing of the MOU will also contribute toward promoting multiple initiatives, including the Asia Zero Emissions Community (AZEC) Concept, through, for example, securing the production bases and supply chain of hydrogen and ammonia.


As Japan's policy-based financial institution, JBIC will continue to contribute toward creating business opportunities for Japanese companies and securing a stable supply of resources for Japan through strengthened cooperation with important partners in the decarbonization sector.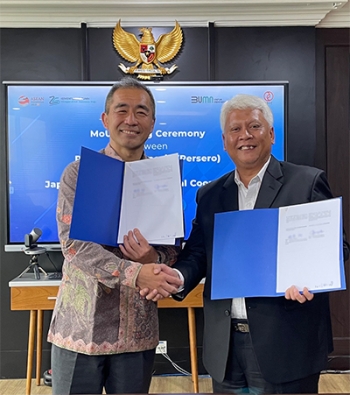 Related Information