Region: Others
Infrastructures
Environment
August 21, 2023
The Japan Bank for International Cooperation (JBIC; Governor: HAYASHI Nobumitsu) signed on August 18 a memorandum of understanding (MOU) with the U.S. International Development Finance Corporation (DFC) and the Export-Import Bank of Korea (KEXIM), taking the opportunity of the Trilateral Leaders Summit between Japan, U.S., and Republic of Korea held in U.S.


The DFC is the U.S. government's development finance institution that was established to mobilize and facilitate the investment of private capital in the economic and social development of emerging market countries by offering financing, political risk insurance, and other financial tools for developmental projects. KEXIM is a policy-based financial institution wholly owned by the Government of Republic of Korea (Korea) that extends financial support such as export loans and guarantees to promote Korean companies' international trade, overseas investment, etc.


In November 2017, JBIC signed an MOU

*1

with the Overseas Private Investment Corporation (OPIC, former organization of the DFC), to promote projects in third countries in cooperation between Japan and the United States. In January 2021, JBIC and DFC signed another MOU

*2

to extend the scope and regions of collaboration. JBIC also signed an MOU

*3

with KEXIM in June 2023 to strengthen cooperation in such areas as infrastructure development, supply chain resilience, and decarbonization.

The Governments of Japan, the United States, and Korea held a trilateral summit meeting on the sidelines of ASEAN-related Summit Meetings in November 2022, and exchanged views on the sidelines of the G7 Hiroshima Summit in May 2023, thereby affirming that they would promote trilateral cooperation in such fields as economic security in the Indo-Pacific region. They have also participated in the Indo-Pacific Economic Framework (IPEF), which was launched in May 2022, to strengthen collaboration in the region.


The MOU is intended to strengthen the cooperative relationship among the three institutions of Japan, the United States, and Korea, and it affirms their willingness to cooperate in sectors such as quality infrastructure, resilient supply chains, and decarbonization. This MOU will contribute toward the realization of a "Free and Open Indo-Pacific," promoted by the Government of Japan. It is also expected to further strengthen the relationship among Japan, the United States, and Korea.


As Japan's policy-based financial institution, JBIC will continue to financially support the creation of business opportunities and the promotion of business for Japanese companies and contribute toward the further development of economic relations between related countries by collaborating closely with such overseas governments and policy-based financial institutions.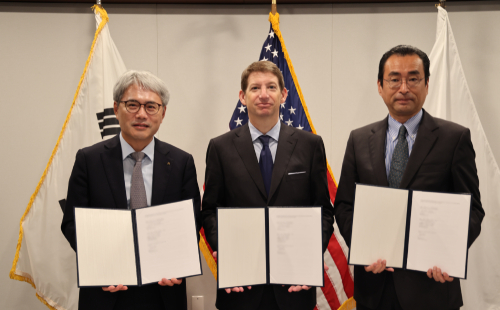 Note
*1

*2

*3
Related Information