Region: Europe
Environment
Others
October 25, 2021
The Japan Bank for International Cooperation (JBIC; Governor: MAEDA Tadashi) signed a memorandum of understanding (MOU) on October 22 with the European Investment Bank (EIB; President: Werner Hoyer) to further strengthen cooperation between the two policy-based public financial institutions, in areas such as climate and environmental change measures in which Japan and the European Union (EU) will play a leading role.


EIB is the financing arm of the EU providing long-term financing and expertise for projects that contribute toward economic integration and balanced development both in Europe and beyond.


In October 2018, at the Japan-EU High-Level Dialogue for Industry, Trade and Economy, JBIC and EIB signed an MOU

*1

to promote cooperation both within and outside the EU. Based on the MOU, JBIC and EIB have held successive discussions at various levels to specify the scope of collaboration and enhance cooperation.

The MOU signed in October 2021 aims to further enhance cooperation that has been fostered since the signing of the MOU in 2018 to promote collaboration between the two policy-based financial institutions, including co-financing toward the projects in which Japanese and EU companies are expected to be involved in areas such as carbon neutrality, infrastructure, innovation, and the Sustainable Development Goals (SDGs). At the Japan-EU Summit held in May 2021, both sides announced the launch of the Japan-EU Green Alliance that is intended to promote cooperation in various fields such as energy transition and innovation, and confirmed that Japan and the EU would lead the international community by accelerating climate and environmental measures.


As Japan's policy-based financial institution, JBIC will continue to actively support the creation and promotion of business opportunities for Japanese companies and contribute toward the further development of economic relations between Japan and the EU, by collaborating with overseas public financial institutions.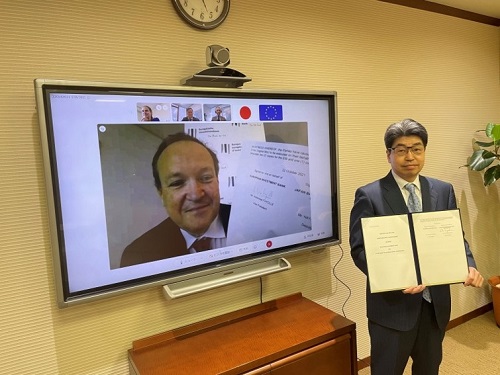 Note
*1
Related Information