Region: Others
Environment
May 23, 2022
The Japan Bank for International Cooperation (JBIC; Governor: MAEDA Tadashi) signed on May 21, together with the Government of Japan, Japan International Cooperation Agency (JICA), and the New Energy and Industrial Technology Development Organization (NEDO), a Memorandum of Cooperation (MOC) with International Solar Alliance (ISA), an international initiative for a massive scaling up of solar energy.


ISA is a multilateral collaborative platform, conceived by the Governments of India and France during the 21st Conference of Parties (COP21) to the United Nations Framework Convention on Climate Change in November 2015, with the objective of rapidly and massively scaling up solar energy in the international community. The activities of this initiative include mobilizing funds for expanding the access to solar energy and supporting technological and financial capacity building of its member countries.


At the Japan-India Summit Meeting in March 2022, the leaders of the two countries reaffirmed to work together toward global carbon neutrality and diverse and realistic energy transitions to address climate change. Also, in the Fourth Medium-term Business Plan, released in June 2021, JBIC aims to respond to energy transformation toward the realization of a decarbonized society. In addition, JBIC is strengthening climate change-related finance based on its ESG Policy released in October 2021. The signing of the MOC is in line with the Medium-term Business Plan and ESG Policy, and it will contribute toward promoting Japanese companies' business expansion overseas, such as to African countries, for solar photovoltaic projects and toward strengthening the relation between Japan and India.


JBIC will continue to provide financial support to assist energy transformation for realizing a decarbonized society through such initiatives.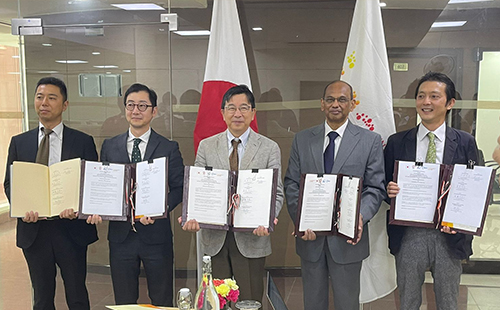 Related Information