October 17, 2022
The Japan Bank for International Cooperation (JBIC; Governor: HAYASHI Nobumitsu) signed on October 14 a memorandum of understanding (MOU) with the European Bank for Reconstruction and Development (EBRD; President: Odile Renaud-Basso), taking the opportunity of the Annual Meetings of the International Monetary Fund and the World Bank Group. The objective of the MOU is to fortify cooperation between both parties on projects in multiple regions and sectors, including Central and Eastern Europe and energy transformation.


The MOU aims to further promote the two organizations' cooperation in financing for regions such as Central and Eastern Europe, where the EBRD has a long track record in offering support, as well as Central Asia and Southern and Eastern Mediterranean countries, and for energy transformation, digital transformation, and solutions to social issues. This MOU is a developmental outcome of the cooperation JBIC and the EBRD have built based on another MOU they signed in October 2019

*1

for, inter alia, the promotion of global environment preservation and innovations.

In the Fourth Medium-term Business Plan released in June 2021, JBIC aims to respond to energy transformation toward the realization of a decarbonized society, address the strengthening of resilience and rebuilding of international supply chains, and support M&A and technology acquisition by Japanese companies toward digital transformation, etc. The EBRD also aims to briskly implement financing in these fields, with its target to increase the percentage of its Green Finance over the total commitment amount to reach more than 50% by FY2025. Accordingly, JBIC and the EBRD are expected to financially collaborate in these fields.


As Japan's policy-based financial institution, JBIC will continue to actively support the creation and promotion of business opportunities for Japanese companies while closely collaborating with international financial institutions.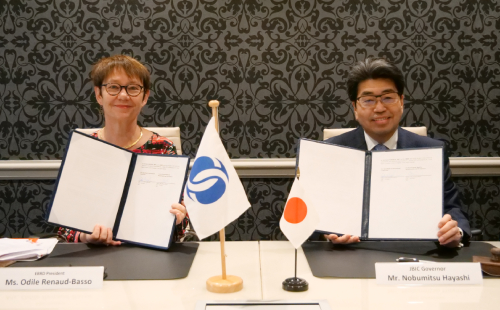 Note