Region: Asia
Infrastructures
Environment
November 10, 2022
The Japan Bank for International Cooperation (JBIC; Governor: HAYASHI Nobumitsu) signed on November 9 a Memorandum of Understanding (MOU) with the National Investment and Infrastructure Fund Limited (NIIFL) of India for the establishment and promotion of the India-Japan Clean and Growth Platform.


This MOU aims to promote environmental preservation, low carbon emission strategies, and growth of the Indian economy, and enhance the cooperative relationship between Indian and Japanese companies across all sectors. NIIFL and JBIC agreed to consider the establishment of a bilateral India-Japan Fund, which will make equity investments in environmental preservation and low carbon emission strategies. In addition to the Fund, JBIC will consider providing debt financing to investee companies of funds managed by NIIFL by utilizing JBIC's loan functions.


India is an important partner for Japan in realizing a "Free and Open Indo-Pacific." The Governments of India and Japan have been undertaking multiple initiatives, including the India-Japan Clean Energy Partnership, to promote environmental preservation efforts in India, and they have also set a target of increasing Japan's investment in India to JPY5 trillion over the next five years.


NIIFL, anchored by the Government of India with 49% shareholding, is a collaborative investment platform to channel domestic and international capital for large scale investments in the country. Currently, NIIFL manages three funds with distinct investment strategies and is promoting investment in infrastructure development and growth equity.


JBIC will continue contributing toward environmental preservation in India, the promotion of investment by Japanese companies, and collaboration between Indian companies and Japanese companies. Through such initiatives, JBIC also contributes toward deepening the bilateral relationship between India and Japan.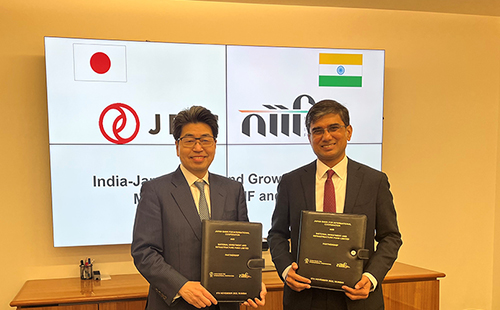 Related Information