Region: Asia
Manufacturing and Services
Untied Loans
Guarantees
April 3, 2023
The Japan Bank for International Cooperation (JBIC; Governor: HAYASHI Nobumitsu) signed on March 31 a loan agreement amounting to up to USD100 million, of which JBIC's portion is USD60 million, with IndusInd Bank Limited (IndusInd) of India. The loan is co-financed with Mizuho Bank, Ltd., the Shizuoka Bank, Ltd., and the Joyo Bank, Ltd. JBIC will also provide a guarantee for the portion co-financed by the private financial institutions.


IndusInd is a local financial institution and India's fifth largest private financial institution by assets as of the end of March 2022. The loan is intended to finance through IndusInd the funds necessary for the manufacturing and sales businesses of the local suppliers and dealers of Japanese construction equipment manufacturers and also for the local sales finance businesses to sell Japanese construction equipment.


India is the world's third largest construction equipment market by units sold, and the market is expected to expand. Given its high potential for growth, Japanese construction equipment manufacturers, which have approximately 60% of the Indian excavator market, position India as an important market. The loan will financially support the general manufacturing and sales activities of Japanese construction equipment manufacturers in India, thereby supporting the enhancement of local supply chain resilience and contributing toward maintaining and improving the international competitiveness of Japanese industry.


In September 2014, the Government of India launched the Make in India campaign to strengthen Indian manufacturing and make India a global investment destination by encouraging foreign investment from all around the world. Also, in August 2021, the Government of India announced PM Gati Shakti, which is the national infrastructure development master plan for the cross-sectoral efforts of the ministries and state governments to develop infrastructure for the purpose of improving the efficiency of the logistics infrastructure, a long-standing issue for India. Under the plan, numerous infrastructure development projects are being planned with a budget of INR100 trillion. The loan will promote the supply of construction equipment that is necessary for expanding the development of India's infrastructure by enhancing the supply chain resilience of Japanese construction equipment manufacturers in India, and it will lead to the strengthening of local small- and medium-sized suppliers and others, in line with the Government of India's policy.


As Japan's policy-based financial institution, JBIC will continue to support the improvement of Japanese companies' business environment in India by drawing on its various financial facilities and schemes for structuring projects and by performing its risk-assuming function.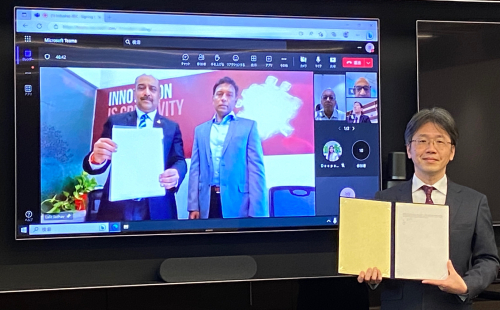 Related Information